Himmers PU fashion messenger bag is made of high-quality artificial leather (environmentally friendly synthetic leather, not real leather), which is soft and light, waterproof and easy to clean, durable, scratch-resistant, and wear-resistant.
The inner material is polyester, which is soft and comfortable to the touch.
All pins are arranged neatly and orderly to ensure the quality of the product. In addition, the top of the messenger bag is equipped with an anti-theft zipper, which provides a safer and more reliable use experience.
Himmers fashion messenger bag is designed with a reasonable size and structure, which can easily organize your daily necessities such as IPAD, wallet, magazine, mobile phone, cosmetics, etc. At the same time, it is also suitable for storing other small items.
Messenger bags feature a classic padded exterior that not only adds to the aesthetics but also provides better protection to keep your belongings safer.
In addition, the shoulder strap can be freely converted, and it can be used as a handbag, shoulder bag or messenger bag according to needs, which is very convenient and practical.
Summary: Himmers PU Fashion Messenger Bag has attracted many consumers with its high-quality artificial leather material, multi-functional design, and comfortable and durable features.
Not only can it easily organize all kinds of daily necessities, but it also has humanized designs such as anti-theft zippers and convertible shoulder straps, making your use more convenient and secure.
Whether for daily shopping, traveling or commuting, this Himmers messenger bag is the ideal choice.
Basic Information
Year Established

2003

Business Type

Manufacturing Industry

Country / Region

China

Main Industry

Luggage & Travel Bags

Main Products

bag

Enterprise Legal Person

David Wen

Total Employees

16~100 people

Annual Output Value

70000000USD

Export Market

Chinese Mainland,European Union,Middle East,Eastern Europe,Africa,Oceania,Hong Kong and Macao and Taiwan,Japan,Southeast Asia,Others

Cooperated Customers

ADM, Renner, Levi's, Smiggle, Coca-Cola, Etc.
Company Profile
Himmers has been designing / manufacturing bags for global brands since 2003.
We take care of all steps, including design, sampling, fabrication, quality control, and shipping.
No matter your order large or small, your products are professional or Popular.
Whether it is Leather, artificial leather, cloth, woven materials, plastics, and special functional materials, etc.
We can handle them perfectly.
In recent years, with people's attention to environmental protection and the improvement of relevant laws and regulations, Himmers factory is working hard to reduce carbon emissions:
1: Improve production efficiency and establish a new environmentally friendly production system
2: Explore and use recyclable/biodegradable raw materials,
3: Actively obtain environmental certification such as FSC, ISO 14001
4: Provide customers with effective environmental protection alternatives
Himmers plans to reduce carbon emissions from production by 50% by 2030 and achieve net-zero carbon emissions by 2060.
Company Video

Certifications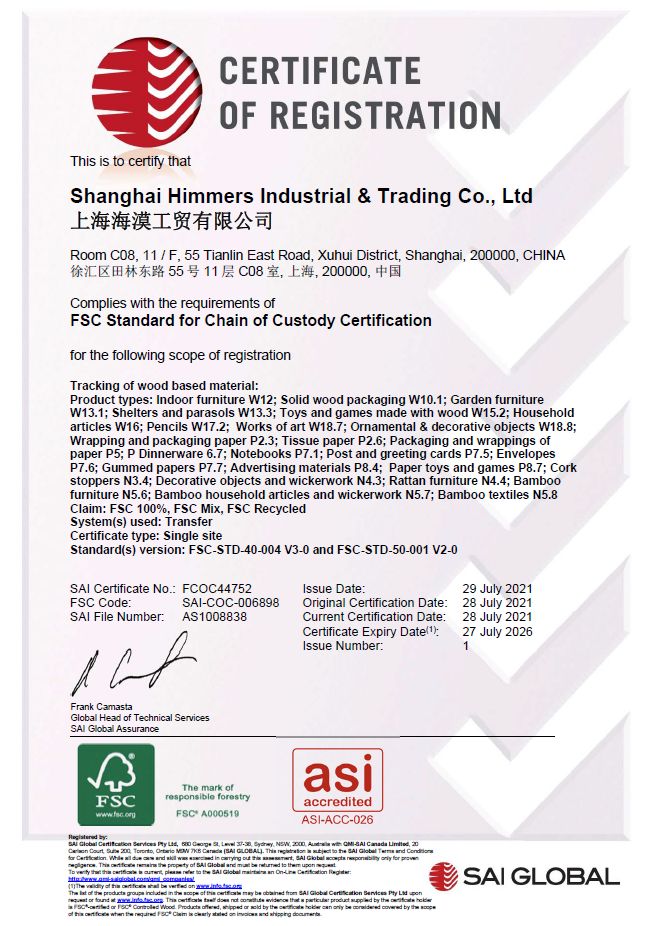 FSC
Issue by:Forest Stewardship Council®